Return to a top page.

Return to the page of China painting.
---
I have carried out to the "Wedgwood visitor center."

When it went to the England travel in July, 01, I called at Wedgwood's factory. I want to introduce, although there was seldom time since it was included in tour.
After it went into the town in "Stoke-on-Trent" and "Wedgwood looked at the sign this" that exists previously, to the beginning, how much did the bus run? I think that I was probably a unit of what km. I think whether I am too so famous. When it turned with the big signboard, the building surrounded by the pasture appeared at hand. Seemingly this is the Wedgwood head office factory somehow.
A bus goes into a parking lot. I seldom receive an impression gay from an impending building. I seem to be the automobile factory performed by social-studies inspection as a child.
I come down a bus and am to a visitor center. There is an image made from the china of "Josiah" (since it did not often see, I may be copper) in patio in front of an entrance. A cafe & restaurant is situated in the right and a shop is situated in the left so that patio may be surrounded.
When it goes into inside, a toilet is situated in the right-hand back and a souvenir shop is situated in this side. Furthermore, a receptionist counter is in this side, and I borrow an earphone guide here, and enter a museum. Of course, the Japanese guide is prepared.
The inside of a museum is the bright exhibition collected modernly. An early trial product, the panel of the work situation, etc. "Frog-service", the origin of "Black Basalt" and "Jasper", etc. are quite interesting. I combine with an earphone guide, and am very alike, and polite explanation is made Conversely, unless it makes inspection only into the key point and it progresses previously, I cannot turn around it to within a time. Although I am regrettable, I will hurry the point and enter into a factory still more.
When it went into the factory, interior changed completely. I am a factory surely. That character of affectation does not exist, either. Here, I prepare an inspection course in an actual factory, and an earphone guide explains a work process too. The fabrication from kaolin, plastic surgery, A glaze application with a machine, Carrying in in kiln, transfer of transfer paper, Attachment of a cameo to "Jasper", etc... Since it escapes from the side immediately and it goes, although the direction whose craftsmen work and to inspect is very interesting and I am interesting, I become anxious with whether any for craftsmen to be distracted and there to be an end. In china-painting relation, I was able to see the scene of putting in gold rim at a stretch with the roller. The time which I spend on one material is 30 seconds at most... This is uncanny. Since I am poor at the treatment of gold, I have been fascinated by too much vividness.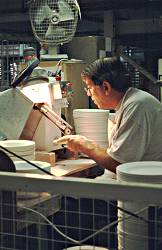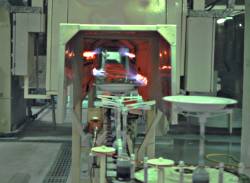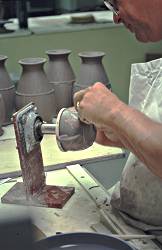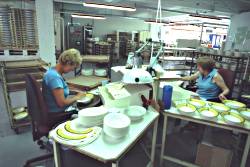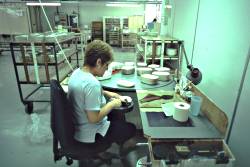 If it escapes from a factory, I will appear in a demonstration room. I change to the calm bright interior. I return an earphone guide here. In a demonstration room, I can inspect a demonstration of cameo work of negative engraving of copperplate transfer or Jasper, upper china-painting, doll china-painting, etc. Unlike the inside of a factory, since it is a demonstration to the last, there are some persons who speak to the craftsman or ask a question.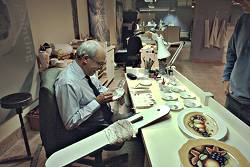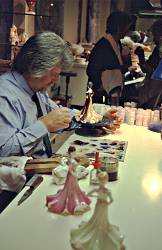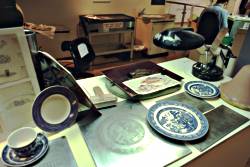 Although whether the hand-drawn product [ Wedgwood ] remains now did not know, I come here and the spectacle of china-painting was seen at last. The elderly male draws a building and scenery. The smell of a tele pin attaches a nose. I have kneaded paints more firmly and they seem to lengthen only a part to use by the tele pin. After taking an outline, I moved, or brought near and drew the paints on a dish by the brush. Wonderful one is that all the tips of an ear of the brush which I have put on the stand turned to the direction (this side) of painter. Since painter which colors the doll was also done, I may be Wedgwood's tradition ...
The next of a demonstration room comes out to a shop. At this shop, the price received an impression called local quantity as only the so-called first class goods (quality articles) were treated. Now, therefore, the shop of London in London may be cheaper among a sale.
(Although it has noticed when taking a bus, the shop treating daily necessaries or the second class article was beside the parking lot which once came out of the building outside.) This was the atmosphere like a wholesale store, goods are located in a line in disorder, and the bread plate etc. also had a thing which is less than 500 yen.
If it comes out of a shop, I will appear in the first receptionist. It seems that the light meal and the meal are offered in buffet form, and those uninterested killed time in cafe here. Since we saw thoroughly, we cannot catch lunch. He bought pastry and the drink confusedly and I showed up in the bus ...
Now, I went round the "Wedgwood visitor center" now.
I am still newly comfortable, and since an earphone guide is lent individually, I can inspect at my pace. Is it good as for the interested direction to take time fully and to go?
(According to the books "the Wedgwood tale" (Kyoko Aihara and Ken-ichi Nakajima work, the Nikkei Business Publications February, 2000 20 issue) read before the voyage, although modification of a museum would be till April, 2002, I received the impression that it completes mostly.) For details, please refer to the website of a visitor center.
---

Return to a top page.

Return to the page of China painting.